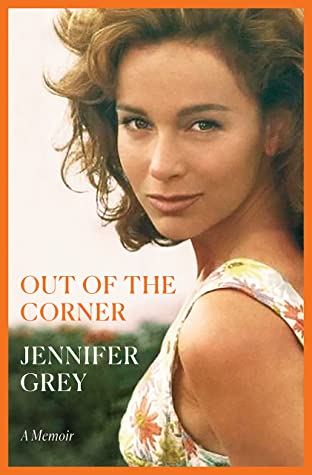 This is a memoir written by Jennifer Grey. She is the actress from Ferris Bueller's Day Off and Dirty Dancing. This book details her life from childhood to present day. She discusses work, family, relationships, and her career. She discusses her relationships with other celebrities including Madonna, Johnny Depp, and Matthew Broderick. Additionally, she discusses her famous mother and father.
5 Stars!
I really enjoyed Jennifer Grey in her many works throughout the years. I mean what person has not watched Ferris Bueller's Day Off or Dirty Dancing?  I knew that I was going to read this memoir as soon as I could. There has been a lot of buzz about it. I read about some of her experiences before picking this book up.
I have read a lot of celebrity memoirs that can get a little dry or the stories are so jumbled that you cannot follow them. This was not the case for this memoir. Her pacing was excellent. It starts off with her famous nose job. But then goes from childhood to present day. I also loved her writing style. The stories were very interesting, raw, and honest. I thought a lot of her stories were very intimate. The one revelation about her father really had me teary-eyed. Also, the car accident with Matthew Broderick was something to read. We go from tragedy to complete happiness throughout the book.
I loved the behind-the-scenes of some of her films too. A lot of celebrity memoirs shy away from talking about behind the scenes. Jennifer discusses the chemistry between her and her co-workers as well as other little tidbits. I really enjoyed this part. I also had to do some 'YouTubing' on several of her interviews, her father accepting his Oscar, and some movie scenes!
Her discussions about motherhood really took this book to another level. I am glad that her life went full circle and that she was able to have it all. You can tell the entire tone of the book changes when she talks about her husband and child.
In this memoir, there are many pictures. She shares a lot of personal photos as well as stock photos from her many movies. The audiobook is read by her as well. I went back and forth between audio and the book form.
I also love the cover of this book. And the title is a cute play on words from her most popular movie Dirty Dancing.
Needless to say, I hope that Jennifer Grey will pen a fiction novel or screenplay. She is such a talented writer!
Trigger warnings: addiction (drugs/alcohol), mental health, self-worth, mental abuse relationships, car accidents resulting in death, death, sexual identity, molestation at a young age, etc.