I am rating this book 1 3.5-4 star review.
I really enjoyed this cute story just like the 1st novel in the series (Well Met). I enjoyed the 1st one a lot better though.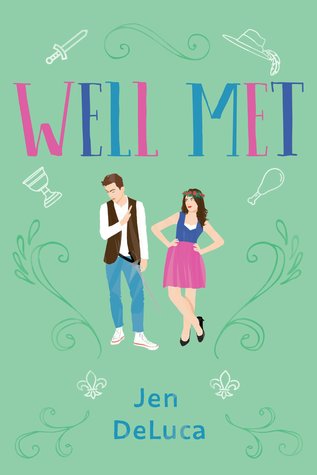 This story is once again set at the Renaissance Festival in the same small town as the 1st story. It is kind of a modern retelling of the story Cyrano. She basically likes a guy from the faire and messages him after faire is done. She begins to communicate and enjoys her talks with him. They start to really connect through emails, texts, etc. She later discovers that it is not who she thinks she has been talking to. Eventually she finds out the truth when the faire comes back to her town. The rest is a cute romance story.
The characters were great! I knew a lot about them and felt they had chemistry. I did not like how they communicated via email at first though. It did not fit with people talking/dating in 2020. They did jump over to another way of communicating eventually. I knew the author had to do that because of the Cyrano aspect of it. If you are talking via social media, you will know how you are speaking with. I knew something was up when I read that part of the story. We also really did not "go into" the faire all that much with this book. The last book, I felt like I was in the faire with them. There were lots of times where the faire was mentioned in details about the skits, etc. This book, the faire was the setting and nothing more.
Overall, the book was cute. I am glad that I read it. It is nice to go back to Willow Creek and enjoy the faire and romance!