One thing that I always enjoy is books about Kindness! Fred Rogers lived in the city of Pittsburgh (1.5-2 hours away from where I live). Fred has always been the ambassador of kindness. I wish I would have been able to meet Fred, but his message lives on. I try to be kind to everyone that I meet. Naturally, I am drawn to books about being kind to others. With everything that is happening in the US and world right now, I think we all can use a little kindness.
Fred Rogers' Books for Adults: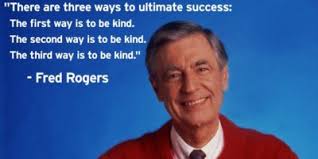 The World According to Mister Rogers by Fred Rogers
Life's Journeys According to Mister Rogers by Fred Rogers
You Are Special by Fred Rogers
The Good Neighbor by Maxwell King
Officer Clemmons: A Memoir by Dr. Francois S. Clemmons
Books with the theme of Kindness:
Channel Kindness by Lady Gaga and her foundation
Wonder by R.J. Palacio
The War on Kindness by Jamil Zaki
The Little Paris Bookshop by Nina George
The curious Incident of the Dog in the Night-Time by Mark Haddon
The Story of Arthur Truluv by Elizabeth Berg
The Power of Kindness by Piero Ferrucci
The Music Shop by Rachel Joyce
Eleanor Oliphant is Completely Fine by Gail Honeyman
Pay It Forward by Catherine Ryan Hyde
Stargirl by Jerry Spinelli
Just Mercy by Bryan Stevenson
Scars Like Wings by Erin Stewart
Darrius The Great is not Okay by Adib Khorram
Finding Audrey by Sophia Kinsella
New Kid by Jerry Craft (graphic novel)
Happy reading, Book Nerds. If and when you can think of books about kindness, drop a comment below!